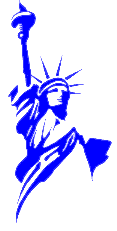 Welcome to the Dallas Libertarian Forum!
This unofficial forum was created so Dallas Libertarians have a way to network and learn about upcoming libertarian events.
Please use the message board feature on the links page to inform everyone of local news/events/activities.
If you have any information to add to the site you can also email me at ellemc@msn.com
Thanks for stopping by!
The Libertarian Party is for all who don't want to push other people around and don't want to be pushed around themselves. Live and let live is the Libertarian way.
Recent Updates
1/29/2004 Creation of Site
1/31/2004 Message Board Feature added to links page
2/12/2004 Site Updated
3/15/2004 Site Update
Upcoming Events in the Dallas Area
Dallas/Plano Libertarian Meetup
(Last Wednesday of each month) vote on venue now at www.meetup.com
DFW Badnarik Supporters 6:00PM Austin's Grill in the Holiday Inn 1655 N. Central Expwy, Richardson TX 75080 (2nd Wednesday of every month)
Collin County Supper Club Next meeting TBA